I'll be happy to clue you in on where DJs eat after the party. But first, know this: DJs are foodies! Seriously! I don't know a single DJ who doesn't know food almost as much as they know music; you'd be hard-pressed to distinguish between their love for the two. (I talk about my favorite food the same way I talk about my favorite music. It's emotional.) We…love…FOOD! And after a draining, exhausting, four-to-six-hour set of party rocking, we want nothing more than a big, heaping plate. But where do you go? And what do you eat? That's easy: Whatever's delicious, obviously, but more importantly, whatever's OPEN.
PIZZA [AFTER]PARTY!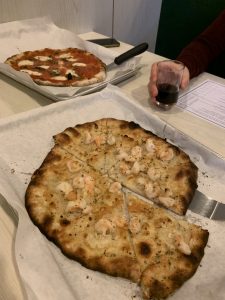 You cannot go wrong with pizza. And New York has the best in the world, with spots open late. Now, that picture above is from Frank Pepe's, the best pizza you'll ever eat (no contest, put your hand down), but it's not in the city, nor is it open late. So, I'll hit Joe's on Carmine Street, usually after one of my old-school dance parties at (le) poisson rouge, because it's a stone's throw away from the venue, not-to-mention the BEST slice in the city. (And you might run into Leo or Lenny, or Leo AND Lenny, given they roll together–it's a favorite after-party pizza of theirs as well.) Prince St. Pizza in Nolita is a recent, new challenger to the title–its "Spicy Spring Slice" is perhaps the most perfect pepperoni slice I've ever had. If you wanna go where DJs eat after the party, go get you some pizza.
GOBDOL BIMBIMBAP [AFTER]PARTY!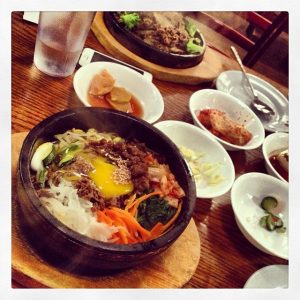 That's pronounced "GOBE-dole BIM-bim-bop," and it's a big clay pot full of rice and vegetables and beef with an egg cracked on top. I'll also order the bulgogi (pronounced "BOO-go-ghee"), stunningly succulent shreds of beef that've been marinated for hours in magic juice with a sprinkling of sesame seeds, and then throw that in. But here's the secret: You gotta let this glorious Korean casserole sit for a while, as it's quite hot, but really because you want the rice to form a crisp layer of crust at the bottom (like a Persian tahdig, in a way), which you'll later break into pieces and dip into chili sauce. Korea Town (K-Town for short) is full of all-hours spots, but I'll always love HanBat, where I had my first bimbimbap. Shouts to the NYU homies! What up, Pete!
DJs [AND EVERYONE ELSE AND THEY MOMMAS] GO TO VESELKA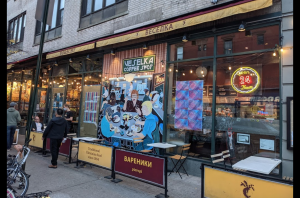 Let it be known that I've only been here once. Truth be told, I was more partial to Odessa on Avenue A, that little, quirky lounge dripping in 70s swag, with little sparkling stars on the ceiling and big, red bouncy booths with individual coat stands, and the half carafes of house wine, which my wife–then girlfriend–and I would sip to all hours at many a date night. Oh, and pirogies. Lots and lots of pirogies. And delicious stuffed cabbage! (There was a 24-hour diner of the same name right next door. "Stuffed DJ.") But alas, it is no more, so you're going to Veselka if you want Ukrainian food. It does seem to do the trick after hours of revelry, but the problem is, EVERYBODY in the city wants that same trick. The place is a zoo. Good luck. Tell my people I say, "Zdravstvuyte!"
THERE'S ALWAYS STREET MEAT AFTER THE PARTY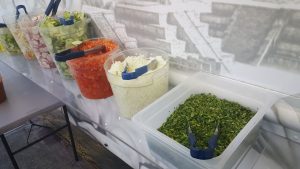 These days, you can get food on the street just as unforgettable as a five-star sit-down. Their ubiquity is proof: You simply cannot traverse a full city block without smelling the sweet, curried sweat of your favorite roasted flesh. I mean…Shoot…Wall Street didn't do a damn thing for the bars, lounges and clubs they hide from their wives at when the pandemic hit, but OH did they sound the alarm and come to the rescue for some of their favorite, post-VIP, concrete nosheries. Anyways, here's a list of where you can grab some great street grub, courtesy of the world wide web:
IT'S OKAY TO EAT LATE AFTER THE PARTY, BY THE WAY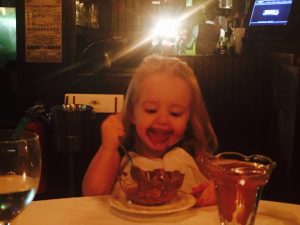 The notion that you gain wait by eating later in the evening is a myth, according to my nutritionist. (She also says I can only visit my favorite Dominican restaurant, Malecon, once every two weeks, at most.) So get out there and eat, friends! Don't go straight home after the party; go slob down a slice! Swallow some tongue tacos! Go ham on a plate of pirogies! (My wife holds the record: 16.5, on a study-abroad program in Krakow.) Dig into Korean tahdig! And now's a great time to do it, as most restaurants are independently owned and sorely in need of customers to offset pandemic pressure. Chow down, people! BURP!