I had to Google those lyrics, because, way back in '79, that's definitely NOT what I was rapping. (Thank G-d for Google.) Arguably the first rap song ever produced, "Rappers Delight" was also the first rap song I ever tried to rap. I would walk around, saying…whatever I thought they were saying, and I loved it. I didn't know that hip-hop could/would become a career, a big part of my life, but here I am, 42 years later, a full-time DJ, party producer and promoter, with one of the most legendary hip-hop parties in history (Freedom Party®) under my belt. And I still love it. Sorta.
WHAT HIP-HOP WAS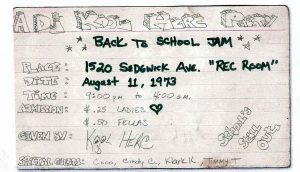 It was fun, it was funky, and it was definitely f*ck you. Hip-hop was birthed by young, oppressed people of color living in poorer, inner-city neighborhoods who wanted to reclaim their power and fight back against a system that tried to keep them powerless, to keep them at bay, to keep them from ever being able to leave the streets they took to, breakdancing, rapping, writing their names in graffiti on trucks and subway cars for the world to see, and deejaying parties (that flyer above is taken from arguably the first hip-hop party in history; shouts to DJ Kool Herc). Every "grown folk" within earshot or bearing witness to the hip-hop movement hated it. And every rapper, dancer, artist and DJ could care less. This was hip-hop.
WHAT HIP-HOP IS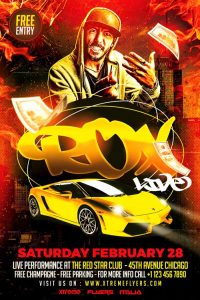 Today, it's sorta the same thing. Younger generations of aspiring hip-hop MCs, artists, dancers and DJs are creating, cutting records (or more accurately, recording MP3s) and making a name for themselves, dreaming of something at the opposite end of what they have, or perceive to have, a pot of gold at the end of the rainbow full of success, and what I think is the biggest driving force, significance. (We all want to feel signifiant, like we're making a difference in other peoples' lives, and in the world.) The sound is different–more 808 trap and less boom-bap–but the f*ck you and fun (for some) are still there.
WHY I PREFER WHAT IT WAS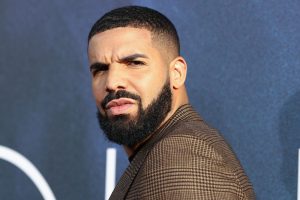 Boom-bap is my sh*t. I like my hip-hop funky, jazzy, soulful and energetic. (Listen here.) Today's hip-hop seems to have lost those elements, favoring slower, darker vibes. (Okay…I'm being nice…The sh*t puts me to sleep.) Also, I'm not as "f*ck you" as I was, with three kids to feed, clothe and put through school. I cannot rage against the machine anymore. Don't get me wrong: I'll play whatever, including Drake, who, for the record, I am a fan of. (His rise to dominance happened when he went whole-hog with the trap, hence the photo.) And I'll enjoy it, because I DJ for the happiness and joy I bring others through deejaying, and if you're having a good time, me too! But if I had my druthers, I'd steer clear of getting stuck in the trap with the 6God (aka "Hookah Papi," aka "The Reason Why You Always Getting Faded," aka…) and stick to old-school.
WHAT HIP-HOP WILL BE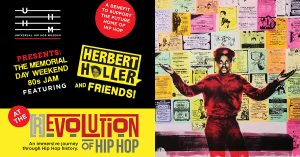 I don't know what hip-hop will be, but one thing I know for sure: It will always be. Hip-hop is the sound of evolution, of revolution, of life itself. However it ends up, those of us who love it, who feel a part of it and believe it to be a part of who we are, can rest assured it won't be forgotten. The Universal Hip-Hop Museum's mission is to tell hip-hop's story and to preserve the culture and its creators. It will open in 2024 in the South Bronx (not too far from the party advertised in that old flyer above), and in the meantime, they have an exhibit called the "REvolution of Hip Hop," and THIS hip-hop DJ and one-time breakdancer (I sucked) and MC (I sucked) and graffiti writer (sorry, NYU), along with some DJ friends, have the distinct honor to be on the 1s and 2s, live and direct, this coming Memorial Day Weekend.
I hope to see you there!
DISCLAIMER: This blog was written by a white dude who wasn't there when hip-hop was born. This is just my take from decades of listening, learning and loving hip-hop culture. I might've left out some very important things, or got something wrong, due in part to my privilege–I sincerely apologize if so. Please email me and let me know how I f*cked up so I can fix it: herbert@herbertholler.com. Thanks! Peace and love!