Yes! It's true! I am a yacht-rock DJ! Well, you know, amongst other things, like hip-hop and R&B and reggae and Top 40 and house music and disco and jazz and…everything else. (Click here for the "else.") But yes…I am a bona-fide yacht-rock DJ! I have studied the music, I have played–to date–at least 10 sets, rich in pure, yacht-rock sound, I have an online, weekly yacht-rock party that I DJ (see at the bottom of this blog–or, more appropriately, below deck), and I've even had conversations with yacht-rock musicians about this blissful, splendid genre of JOINTS! Which, admittedly, most people have absolutely no clue about, nor understand WTF it even is. So here goes.
DEFINITION OF YACHT ROCK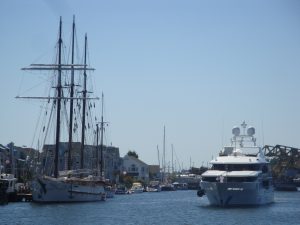 Yacht rock is defined as "smooth pop music from the late-70s and early-80s, heavily influenced by jazz and R&B, and crafted by the finest studio musicians in the world." The name itself was coined by Jay Ryznar, creator of the genre, that definition, the official website, multiple, ongoing yacht-rock podcasts, and the official "yachtski" scale that calculates the yacht-rock weight of songs using the "Jay gradient" and "wateracre scale." (I'm telling you…This is serious business.) The scale uses some type of magical, mysterious math or alchemy-like algorithm to come up with a number; below 50, and it's "nyacht," short for "not yacht," and above 50, it's officially, unequivocally, without a doubt, whether you approve or not, YACHT.
IS IT YACHT, OR NYACHT?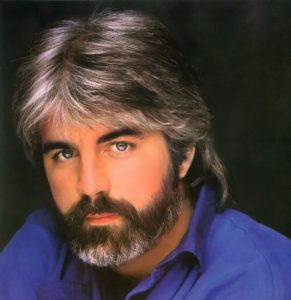 "Sailing" by Christopher Cross is yacht. But ironically, yacht rock has little to do with yachts. Or boats of any kind, really, even though the music seems to fit quite well when you're on the water, perhaps due to its whimsy (lots of Steely Dan). And yeah, there's some "soft rock" scorers in the genre, sure, but ain't nothin' soft when you're "Running with the Night" alongside Lionel Richie. You might even confuse it with "blue-eyed soul," given a good amount of guaranteed yacht belongs to blanquito artists (like the Doobie Brothers, whose "What a Fool Believes" scores the only perfect "100"), but George Benson, Michael Jackson, Philip Bailey, Luther Vandross, Bill Withers and some other African-American artists are high-scoring yachtsmen, too. The sound of yacht rock is…like…It's like what you hear on this Spotify playlist.
A BIG PART OF ME
My dad used to rock Ambrosia ("Biggest Part of Me") and Hall & Oates and all those jams, on 8-track, in his Honda Civic or behind the family bar in the den. That's where I get it from. (Later in life, I discovered his Salsoul Orchestra stash. But that's for another blog.) I didn't suddenly decide I was going to hop on a yacht-rock trend/ship passing through town. (You'd be hard-pressed to find #yachtrock on social media anyways.) I've always LOVED George Benson's "Give Me the Night," Luther Vandross' "Never Too Much" or Michael McDonald's "Sweet Freedom." (LOVE that one.) It's definitely the R&B, the jazz, the smooth, distilled, danceable, seductive swing that forever floats my boat.
WHERE YOU CAN LISTEN TO YACHT ROCK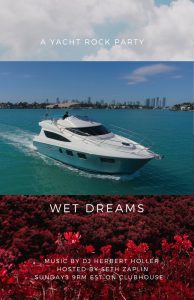 SiriusXM's channel 311 plays it. You'll get some nyacht on there, but that's okay, in my opinion; it spices things up a bit, adding recognizable, head-nod flavor. (Besides, some songs scoring well on the yachtski scale are…beyond my comprehension, I guess, putting it nicely–"Raging Waters" by Al Jarreau is a bad acid trip.) But THE BEST place to listen to yacht rock is at Wet Dreams: The Yacht-Rock Party on Clubhouse. We set sail every Sunday, 9pm EDT, with Captain Zaplin steering the ship and first-mate Herbert Holler deejaying the tunes. And of course I have VIP passes! Skip the line, no approval necessary, just click this link from your phone, and you get right in, red-carpet style, while everyone waits to be approved, to be deemed worthy, to be deemed yacht or nyacht. But not you! You are certified smooth, seaworthy, soulful yacht rock all the way!
See you dockside!
(Watch your step getting on and off–it gets slippery.)