Maybe I shouldn't say I'm the very best wedding DJ you can find, but…heck! I'm definitely one of 'em! Whether your wedding is traditional, with lights and smoke and a photo booth and a bouquet toss and sensual garter-belt removal ("She's a superfreak…superfreak!"), or non-traditional, with gravity-defying capoeira dancers doing flips while Brazilian samba, axé, forro, baile funke or bossa nova rules the roost (see pic above), I am the DJ you want deejaying your big wedding day because I will rock the freaking dress socks off you and your guests.
WHAT MAKES A GOOD WEDDING DJ?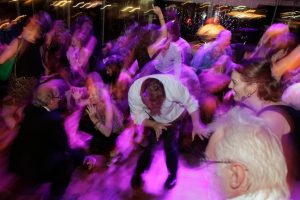 For starters, a good wedding DJ keeps the dance floor full as often as possible. And not just full of the late-teens underage drinking, or the unmarried and childless 20- and early 30-somethings who are in the prime of their hedonistic, selfish, all-hours social lives. I'm talking about parents, grandparents, uncles, aunts and those whose blood type isn't Red Bull and know how they got home last night. A wedding DJ's dance floor should be as integrated and multi-generational as humanly possible. And your wedding DJ needs to bring 'em all together by blending the biggest hits from yesterday through today, like:
30s and 40s jazz and swing
50s and 60s oldies, doo-wop and Motown
70s disco, funk and soul
80s pop and rock
90s hip-hop and R&B
2000s EDM and top 40
WHAT MAKES A NOT-SO-GOOD WEDDING DJ?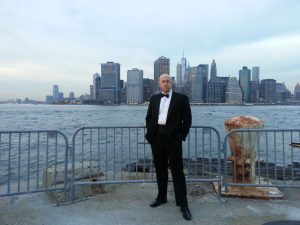 Obviously, it would be someone who can't keep the dance floor full. Someone who can't connect with your guests, the moments, or the overall vibe. But here are some other things to watch out for if you've decided against hiring one the best wedding DJs you can find/me, and you're looking for someone else:
The DJ isn't organized, professional, and presentable. (This DJ might not even show up.)
The DJ doesn't ask questions about your vision, or you and your fiancé. (They might show up, but in flip flops.)
The DJ doesn't do contracts. (Unless he's a friend. And you're OK putting your big day in the hands of "a friend.")
The DJ has a "Prodigy.net" email address. (If you're still going with your friend, you might wanna make sure the venue can play your Spotify playlist.)
WEDDING-DJ PRICES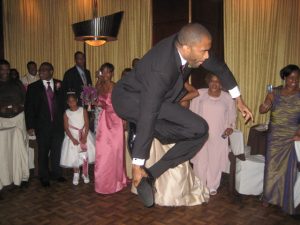 The price you pay for a good wedding DJ depends on how long you need them, how far they have to travel to get to you, and the size of your wedding (larger weddings require larger sound systems/more equipment). You can find some solid pricing info online, like this piece by expert non-traditional wedding DJ, Ben Boylan, or this piece by Wedding Wire (sister company of the Knot). Distilled, you're looking at anywhere from $2000 to $3500 for a good, professional wedding DJ to provide music, sound, lights and MCing for the ceremony, cocktail hour and reception (tip included). If you think that's a lot, a band will run you $5000 for just the four-hour dinner/dance reception. "A friend," of course, will be free of charge.*
*If your friend is, say, DJ Jazzy Jeff, or D Nice, or Ben or even the one Herbert Holler, then please disregard all of the "friend" stuff I wrote.
DO YOU TAKE REQUESTS?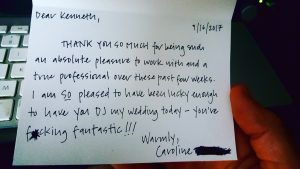 Of course I do! You already know! (See this blog.) I will ask you to send me a "must-play" list, a "do-not-play" list and a list of things you'd like to hear but don't have to hear, for general direction. And if your guests have requests, awesome! Happy to hear 'em. If a guest asks more than once for the same request, that's ok! I'll try to make that happen! If that guest asks again and again and again, and maybe gets a bit belligerent (as the night unfolds, the shirts unbutton and the bottles uncork), then I'll just tell them to find you to make the final call. The only reason I don't play a request is if I think it'll kill the dance floor. BUT, if YOU make the request, then I'll play it without question.
Because it's your big day.
And I'm just happy to be involved.
HOLLER!