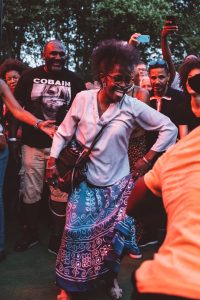 Friends:
Music is one of the most important things the Universe has given us. We may not speak one another's language, we may not understand one another's way of life, we might argue, fight and push, but when a song comes on, we are connected. We become siblings. Family. Lovers, even, wrapped up in joyous embrace. No other thing in this Universe can do that.
Next to love, music is our most effective and proven medicine. Proof positive is the picture above, taken from my Freedom Party® NYC's 14-Year Anniversary at Summerstage in Central Park. Almost 5,000 people came to this event–on a Wednesday night–from all over the world. All different colors, creeds, credit histories (lol), nationalties, religious beliefs, liberals, conservatives, people who like their steak rare, people who like their steak well done…Everyone. (We have almost 200 photos. Click the pic to see them.) Including this amazing woman, who in spite of her ailments, felt the power of the groove and–oxygen or not–had to move. Music was her lifeforce at this moment.
But you've no doubt heard of R. Kelly's most recent alleged transgressions. Yesterday, someone at a gig asked me to stop playing Chris Brown because her girlfrirends didn't wanna listen to a woman-beater. Today, I read Usher was accused of knowingly spreading an STD. Yesterday, I found out Prince allegedly groomed an underage girl until he could legally have intercourse with her. Also, David Bowie may have taken the virginity of an underage girl. James Brown allegedly beat his wives. John Lennon was thought to have raised his hand to females more than once. Chuck Berry, too. And Elvis Presley. Beethoven may have molested his nephew. And we all know the MJ allegations.
So…What do we do??
And when do we do it?
If you get a sec, lemme know.
Thanks,